by Taylor Schaude
5 min read
"Disrupt" was the tech buzzword most associated with the 2010s. It neatly paired with the prevailing ideology of that era: the old, clunky incumbents were rusting over and a whole new wave of industry, powered by 1s and 0s, had arrived to replace them. Uber was here to disrupt taxis. WeWork was here to disrupt the office. Peloton was here to disrupt the gym.
But the 2020s have shown us that disruption needs, well, disrupting. It's become clear that there is value in the trust and interpersonal way business has historically been done. The key is for tech to help bolster the way those traditional businesses do their work. 
There's no arena where that is clearer than in accounting. 
As of 2021, there were 32.5 million small businesses in the U.S. For small business owners, accountants are the most trusted advisor they have for guidance relating to their business.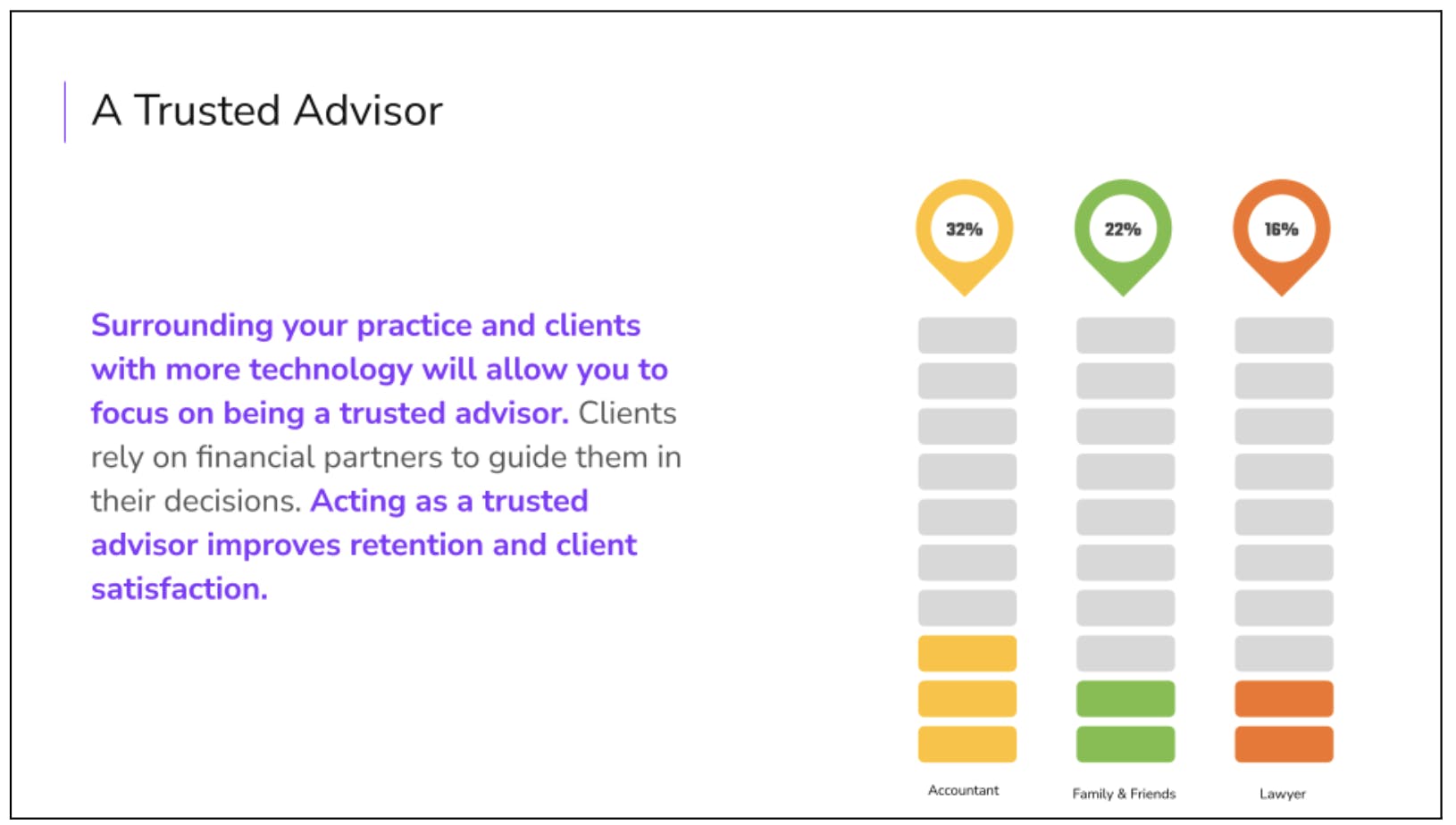 The value of that position cannot be understated — being the first person a business owner goes to at high-leverage moments means the accountant is an indispensable figure in the SMB landscape. 
The ability to position yourself as a "trusted advisor" is instrumental in client retention. Think about it this way, only 61% of business owners were satisfied with their accountant's level of service. For small-business owners who strongly agree that their accountant is a trusted advisor, the number of satisfied customers jumps to 88%. Those are important figures for the value clients place on the trust they have in their accountant. Making it that much more important to factor in trustworthiness when creating AI for the accounting space.
AI can help strengthen this relationship. Technology that is offered by companies like Neo.Tax and Mercury, which automates time-consuming and mundane tasks, can free up time for accountants and reinforce the expertise needed to excel in that role.
The Three Eras of Accounting Technology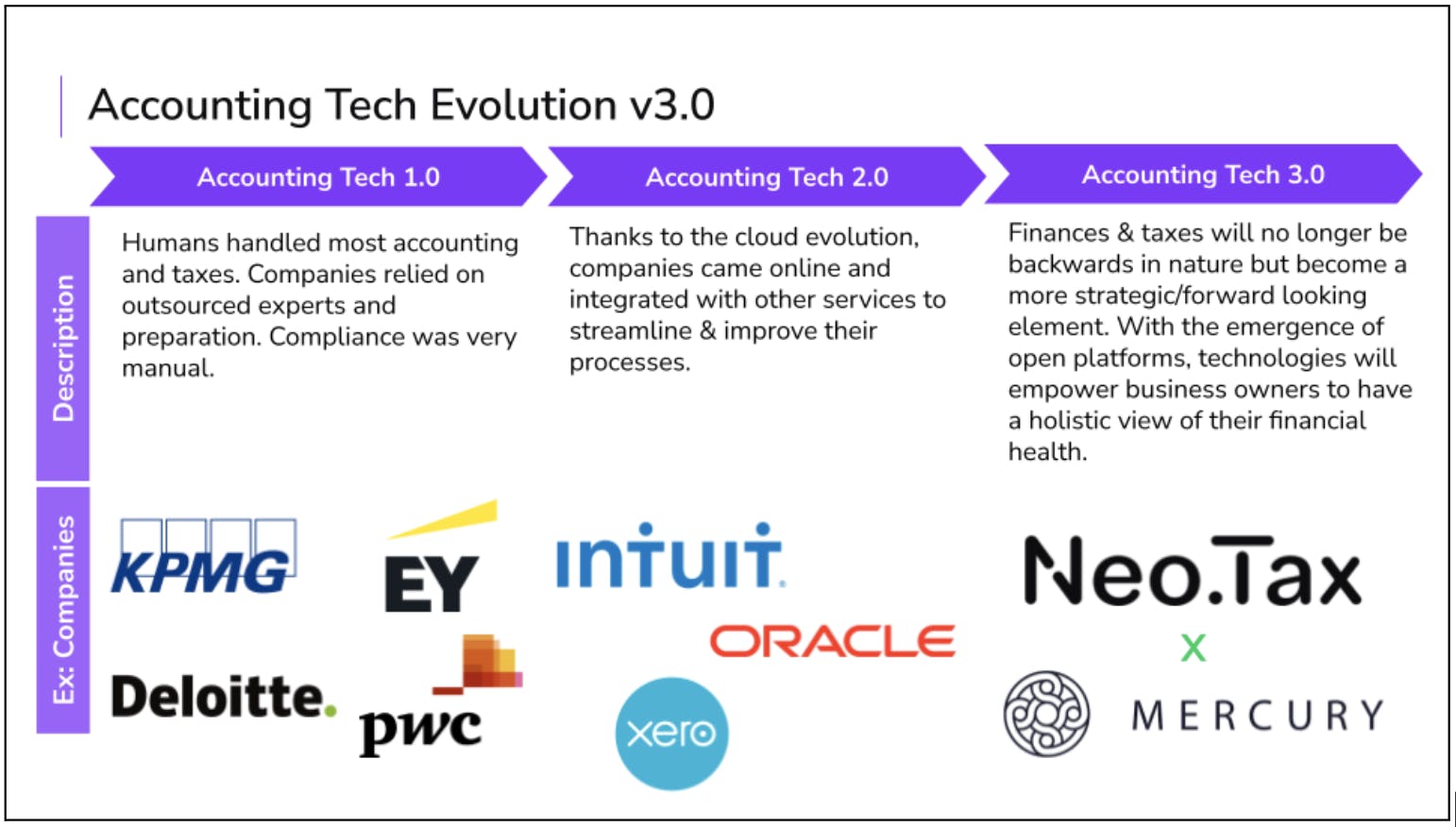 There are three distinct eras in accounting technology. We can understand the first as Accounting Tech 1.0. During that era, humans handled most accounting and taxes. Companies relied on outsourced experts and a lot of time dedicated to preparation. Compliance was very manual. 
Intuit and Oracle sparked the era we'll refer to as Accounting Tech 2.0. Thanks to the cloud evolution, companies moved online and began integrating with other services to streamline and improve their processes. In its purest form, computing automates routine and manual tasks, allowing skilled workers to focus on the bigger picture. By taking the monotonous work out of the accounting process, these technological advances elevated the accountant to a position where they could act as an advisor.
The newest era that has just begun is Accounting Tech 3.0. Finances and taxes will no longer be reactive; the technology can make them a strategic or future-proof element of every business. This emergence of open platforms will empower business owners to have a holistic view of their financial health. Modern banking tools like Mercury can help accountants get a simple view of their client's finances and integrate their banking with third-party providers, like Neo.Tax, which offers an automated tax solution. Ultimately, making the process fast and simple to maximize value for small businesses.
In the coming era of Accounting Tech 3.0, three things have become clear:
AI investment will empower the accountant and the SMB owner. AI will automate routine tasks, putting tactical solutions into the back office that drive efficiency and extend the productivity of humans. 
Clients will expect accountants to adopt more modern technology and will want to partner with accountants who will leverage software to provide value to their business. To stay competitive, being "tech-savvy" will become a requirement for accountants.
Technology will never replace human relationships. Technology can shorten delivery times and remove many of the more tedious accounting tasks. However, clients will look to their accountants as advisors and partners in their businesses more than ever.
The accounting industry is already working to adapt to the changing landscape. In 2015, Accenture stated: "Transactional tasks will move to integrated business services solutions that use robotics, which will automate or eliminate up to 40 percent of transaction accounting work by 2020." In 2021, the American Institute of Certified Public Accountants (AICPA) changed its exam that "put more of an emphasis on understanding business processes, automation, and data analytics."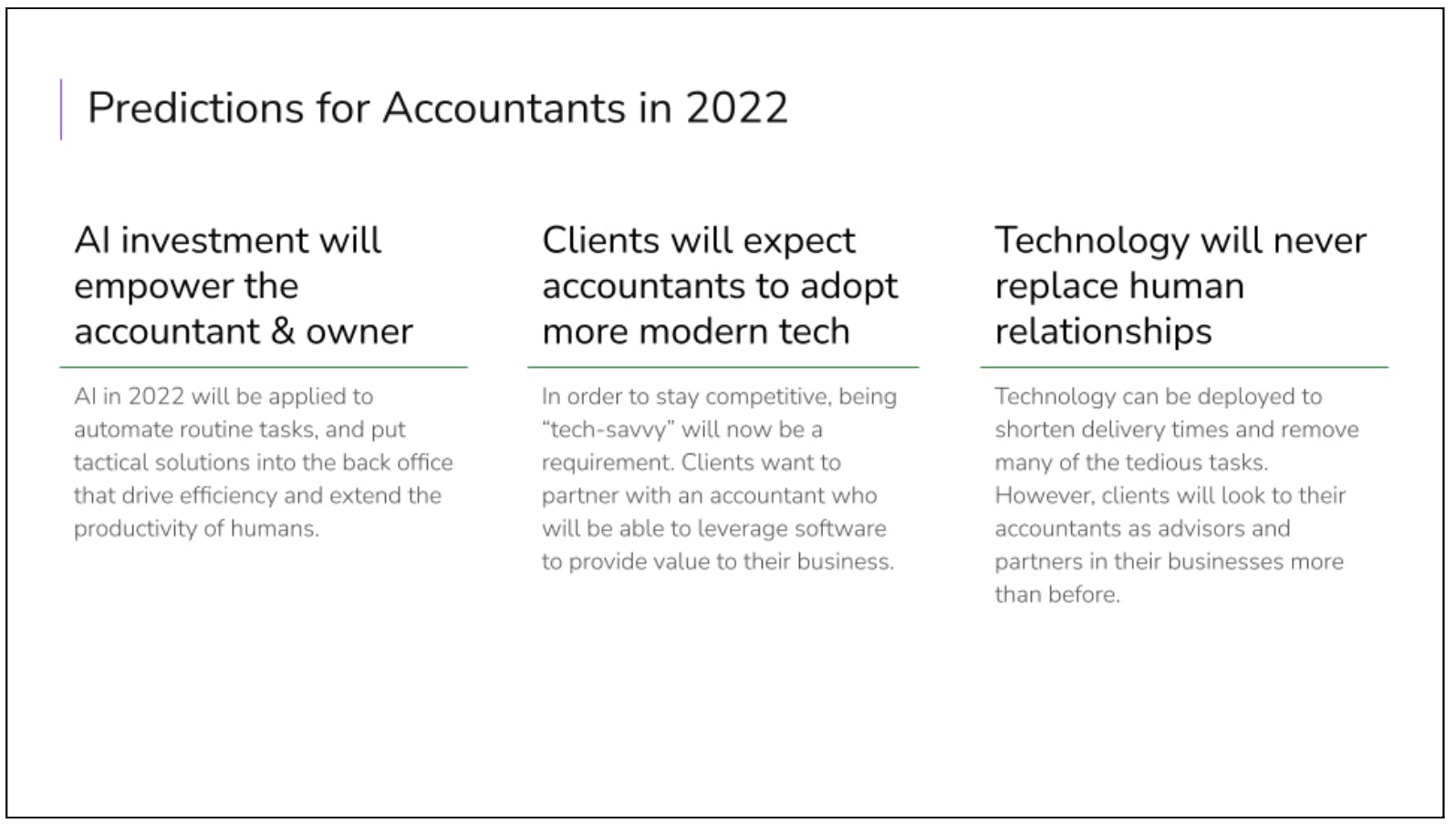 If the buzzword of the 2010s was "disrupt", the buzzard of the 2020s would be "bolster." The Accounting Tech 3.0 stack can become a toolbox for accountants to become ever more integral parts of the SMB landscape. Technology won't replace humans; it'll supercharge them. With Mercury and Neo.Tax, accountants can focus on the aspect of their service customers value most: their expertise.